Adjara is one of Georgia's five main regions of viniculture. Adjara, formally known as the Autonomous Republic of Adjara, is located in the southwestern part of Georgia, on the coast of the Black Sea, bordering to Turkey to the south.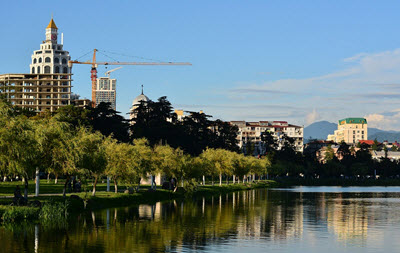 Adjara is a part of Georgia's Black Sea coastal area, a region of Georgia where vineyards are found from just a few meters above sea level to an altitude of 500 meters. The climate here is subtropical, with high humidity. Vintage can start very late in this part of Georgia; often in November and sometimes lasting until the end of January.
During recent years, several vineyards in Adjara have begun restoration work for old grape varieties. Examples of historical varieties in Adjara are Batomura, Brola, Burdzghala, Jineshi, Khopaturi, Klarjuli, Kviristava, Mekrenchkhi, Satsuri, and Shvashura.
Grapes isn't the only thing grown in Adjara; this part of Georgia is also highly suitable for tea, tobacco, citrus fruits, and avocado.
Geography
Adjara is located along the south-eastern coast of the Black Sea, but also extends quite far into the wooded foothills and mountains of the Lesser Caucasus. A majority of Adjara's territory is hills or mountains, and roughly 60% of the district is forested. At west-facing slopes of the Meshkethi Range, you can find rainforests (temperate, not tropical ones).
Climate
As mentioned above, Adjara is a humid part of the world, but the humidity varies depending on location within Adjara. Generally speaking, Adjara is especially humid in the coastal lowlands and along the coastal-facing mountain sides.
Adjara gets plenty of rain in a standard year, but the spring and summer months tend to be sunny, which is appreciated by the grapevines. Most of the rain falls during other parts of the year, especially September and October which are very wet months.
Adjara is one of the rainiest parts of the entire Caucasus, and is the part of Georgia that receives the most precipitation per year. It is even listed among the wettest temperate regions in the northern hemisphere.
Along Adjara's coast, you can expect at least 2,200 mm of precipitation per year. Most of it will be rain, since the climate is subtropical.
The west-facing slopes of the Meskheti Range gets up towards 4,500 mm of precipitation per year. (These are windward slopes.)
Adjara's interior parts are significantly dryer than the coastal lowlands and coastal-facing mountains.
The higher altitude parts of Adjara tend to get plenty of snow during the winter season. In some parts, several meters of snow will fall during the snow season.
Temperature
Average summer temperatures for the lowlands: 22-24 degrees C
Average winter temperatures for the lowlands: 4-6 degrees C
Average summer temperature for the highlands and the interior: 17-21 degrees C
Average winter temperature for the highlands and the interior: minus 3 to plus 2 degrees C
At really high altitudes, the climate is considerably colder.