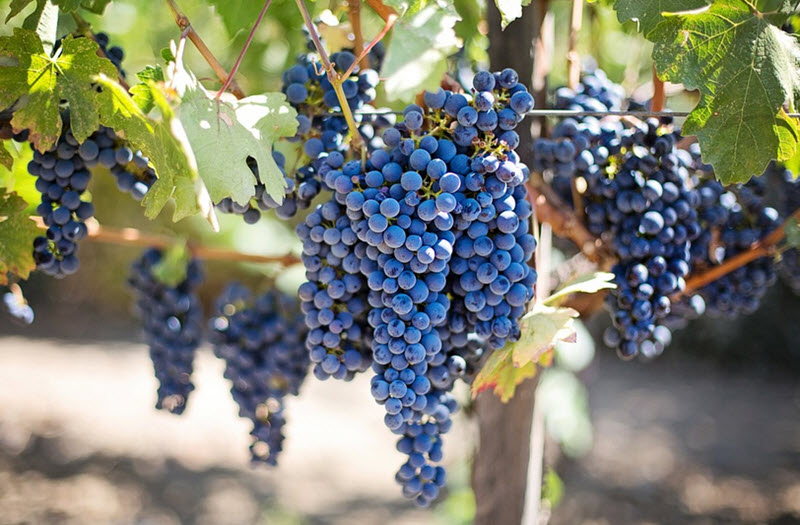 Many of the grape varieties grown in Georgian vineyards are still largely unknown to wine drinkers outside this part of the world.
Reds
Aladasturi
Alexandrouli
Arabeuli Shavi
Arabeuli Tsiteli
Asuretuli Shavi
Berbesho
Cabernet Sauvignon
Chkhaveri
Chumuta
Gianni
Danakharuli
Dzvelshava
Gabekhauri Shavi
Izabella
Kapistoni Shavi
Katchitchi
Meskhuri Shavi
Mtevandidi
Mujuretuli
Otskhanuri Sapere
Ojaleshi
Paneshi
Saperavi
Skhilatubani
Shavkapito
Tamaris Vazi
Tavkveri
Usakhelauri
Saperavi
One of the most common grapes in Georgian red wines is the Saperavi grape. In Georgian, the name means paint / dye / give color. Saperavi is native to Georgia and is used for many of the country's most well-known red wines. Being a hardy variety, it can handle cold weather well and survive at high altitudes in regions such as Kakheti, the part of Eastern Georgia where this variety is believed to have first appeared. Today, Saperavi is grown in many different parts of the country.
Saperavi is an acidic, teinturier grape. A teinturier grape contains the red anthrocyanin in both the skin and the pulp, and such grapes are usually not chosen for making single-varietal wines – but Saperavi Saperavi is an exception from this rule.
Saperavi grape is great for making deep red wines suitable for extended aging (50+ years). It is also a good choice for making high-alcohol wines.
Depending on the type, Saperavi grapes can be round or elliptic. The grapes are medium to large, thin-skinned and dark bluish. The maturation period is approximately five months.
Even though Separavi is strongly associated with Georgia and a few other former USSR republics, small quantities of this grape are actually grown in the Niagara and Finger Lakes regions in New York State, USA, and in Victoria's King Valley Region in Australia.
Here are a few suggestions if you are interested in trying a Saperavi wine from Georgia:
Napareuli is a dry wine from the micro-region Napareuli within the region Telavi. This wine is made from first-class local vintages and aged for 3 years.
Mukuzani is a dry wine from the Mukuzani region, where it is made from first-class local vintages and aged for 2 years.
Kindzmarauli is a semi-sweet wine from the Kvareli region, made from late-harvested Saperavi grapes and aged for 2 years.
Whites
Arabeuli Tetri
Brola
Budeshuri Tetri
Buera
Chinuri
Chvitiluri
Dondghlabi Tetri
Gorula
Kapistoni Tetri
Khikhvi
Krakhuna
Kundza Tetri
Melikuda
Mtsvane
Mtsvivani kakhuri
Mtsvivani Rachuli
Qisi
Rkatsiteli
Sakmiela
Tsitska
Tsolikauri
Tsulukidzis Tetra
Rkatsiteli
Native to Georgia, the Rkatsiteli is one of the most important grapes for the country's white wine industry. In Georgian, the word rkatsiteli means red stem. Rkatsiteli is one of the oldest known grape varieties, and in Georgia, clay vessels have been found with Rkatsiteli grape seeds dated to 3000 BC.
Rkatsiteli yields noticeably acidic, balanced wines with spicy and floral notes in the aroma. Since these grapes are so naturally acidic, they are normally picked late in the season to allow for extra sweetness to develop. Harvesting in mid October is common.
The Rkatsiteli grape originates in Georgia, but nowadays, Rkatsiteli grapes aren't just grown in here; they are fairly common in several wine producing countries that used to be a part of the Soviet Union. During the Soviet period, Rkatsiteli grapes were used to create everything from table wines to liqueurs and fortified wines similar to Sherry. The sweet dessert wines from Kakheti in Georgia were famous, and consumed in the same manner as port wine.
Rkatsiteli is still strongly associated with the former USSR, but small-scale cultivation has been set up in a few other spots as well, including vineyards in Australia, United States and China. In the United States, Rkatsiteli is grown in Virginia, North Carolina, California, Colorado, New Jersey, and New York State (Finger Lakes region). In China, the grape is called Baiyu.
Mtsvane
In Georgia, Mstvane is often blended with Rkatsiteli, since Mstvane brings a lot of fruitiness and aroma. In Georgian, the word mtsvani means new, young and green.