Racha – Lechkhumi & Kvemo Svaneti doesn't have a lot of vineyards, but they do exist, and some of them have preserved unusual and rare Georgian grapes.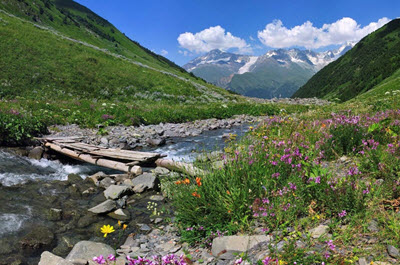 Examples of well-known wines from this region are Usakhelouri, Tvishi and Khyanchkara.
Racha
In Racha, the vineyards are chiefly found on the slopes of the River Rioni.
Lower Racha is famous for the micro-zone Khvanchkara.
Lechkhumi
Lechkhumi is home to several notable micro-districts, such as Orbeli, Tsageri, Alpana-Tvishi, and Zubi-Okureshi.
Examples of grape varieties grown here
Aleksandrouli
Mudjuretuli
Orbeluri
Rachuli Dzelshavi
Tsolikouri
Tsulukidze Tetra
Usakhelauri
About Racha-Lechkhumi & Kvemo Svaneti
Racha-Lechkumi and Kvemo Svaneti is a region in northwestern Georgia comprised of the historical provinces Racha, Lechkumi and Kvemo Svaneti (Lower Svaneti). Ambrolauri is the regional capital. The region is almost 5,000 square kilometers in size, and at the 2014 census, nearly 32,000 people lived here, making it one of the most sparsely population regions in Georgia. Pretty much everyone in the region speaks Georgian, but some of the residents in Kvemo Svaneti also speak the Svan language – the native language of the Svan people. Of the estimated 30,000 Svan speakers in Georgia, approximately 12,000 speak the Kvemo Sveneti (Lower Svaneti) dialect.
Racha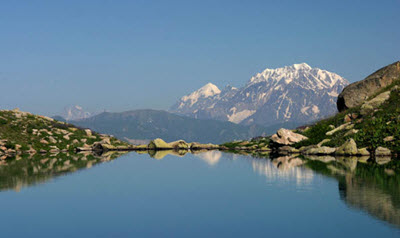 Racha is a highland area in the upper Rioni river valley, hemmed in by the Greater Caucasus mountains. It consists of the municipalities Oni and Ambrolauri.
The territory of modern-day Oni has been inhabited by humans since the Bronze Age, and archaeologists have found Colchian coins here – coins dated to the 6th – 3rd centuries BC. Oni is prone to earthquakes, and during the snow season there is also avalanches. On 29 April 1991, a destructive 7.0 earthquake occurred here, the most powerful earthquake ever recorded in the Caucasus Mountains.
Lechkhumi
Lechkhumi is a historic province located along the middle basin of the rivers Rioni and Tskhenistskali, and also in the Lajanuri river valley. Lechkhumi has been inhabited by humans since the Neolithic Age, when the Colchians lived here. The Tsageri district is located in Lechkhumi, and Lechkhumi also includes parts of the districts Ambrolauri and Tsq'altubo.
Kvemo Svaneti
Svaneti is a historic province and the ancestral home of the Svans, and ethnic subgroup of Georgians.
Svaneti consists of two inhabited valleys, separated by the Svaneti Range.
Zemo Svaneti (Upper Svaneti)Situated on the upper Inguri River.
Kvemo Svaneti (Lower Svaneti)Situated on the lower Inguri River.
The main town in Kvemo Svaneti is Lentekhi. Farming and lumber are important for the economy here. Each spring, a festival is held at a church located above the town.
The residents of Lentekhi drinks mineral water from a spring in the mountainside.